HOLY CRAP.
After almost 5 years of "emergency warning," there is finally a new missive for you loyal denizens of The GHZ.
THE FRONT PAGE AND NEWSBOARD HAVE BEEN FIXED!
As much as I'd like to take credit for this astounding revelation, I simply cannot, because I am a beacon of honesty and truthfulness. All your Drano cookies and care packages should be sent to
big_smile
, our mysterious magical messiah who came back from the dead to do all the hard work restoring those broken relics to their former glory. Praise be his name.
Hope you all enjoy!
Posted on Sun Jul 22, 2012 2:20 pm (8 )
On this day in 1997, Green Gibbon! announced that his new project, the Green Hill Zone, was out of development.
That was 11 years ago. I finished college yesterday . I was just finishing 5th grade when I first started frequenting the GHZ. I was 11 at the time, and I'm 22 now (if my math is correct).
That means that for roughly 50% of my life, I've been discussing Sonic games with people on this site with some level of regularity.
I'm not sure whether this calls for a celebratory drink or a prescription for antidepressants.
Posted on Sat May 17, 2008 9:32 pm (111 )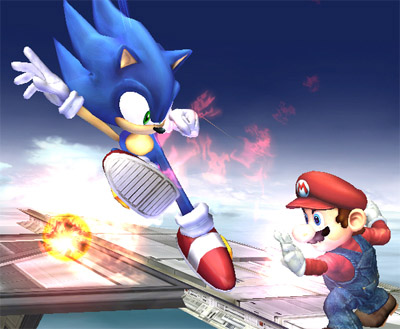 Whatever wandering souls are left of the vibrant readership that once patronized this site only stumble in these days once every few months on boring Tuesday evenings to hear me rant like an old grampie about how lousy the last Sonic game was. Those who have come seeking cynicism will be disappointed today, because I think is cool. Yes, I said it: this makes me horny. Not that it's a surprise or anything - I would've been disappointed if it hadn't happened, especially with Solid Snake farting around like a stray lamb - but, y'know, a birthday cake still tastes good even when you
expect
to get one. This is the big showdown between hedgehog and plumber that I've been waiting for the past 15 years (that olympics nonsense can be damned). I might now even be persuaded to forgive the presence of Diddy Kong.
I'm rooting for Mega Man next.
Posted on Wed Oct 10, 2007 8:23 pm (56 )